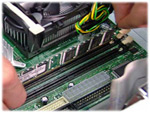 From simple software installation to complete system overhauls, Euclid Networks offers numerous repair and upgrade solutions for laptops, desktops, and servers. Our technicians have been addressing both hardware and software issues for over 13 years, giving you the confidence of putting your system in experienced hands. We're dedicated to providing the best quality computer repair service in Atlanta.
Typical Repair Services
Repairing slow computers and addressing sluggish performance
Virus / malware removal
System formatting
Hard-drive OEM warranty service
Fan / power supply replacement
Atlanta laptop repair
Broken screen, Stuck keyboard, Battery replacement
Typical Upgrade Services
Operating System updates
Memory expansions
Software installs
CPU / GPU Upgrades
Adding wireless networking capabilities
Have a tech support or computer service need?