Managed IT Service : What is it?
When a company outsources the daily management of its information technology and networked computer systems, it is using managed IT services. Large firms have dedicated IT departments managing their equipment – something mid-size companies are often unable to afford.
Euclid Networks offers a solution: easily budgeted, fixed fee IT support plans that take away the worry, frustration, and unpredictable cost of managing your technology environment – without hiring additional staff.
Our managed IT services solution keeps watch over your systems 24/7, performing regular maintenance, and alerting technicians when problems are spotted. We step in the moment we discover anything amiss – in most instances, you won't ever know there was an issue. This smart, proactive approach to IT maintenance keeps small problems from becoming big … and expensive!
Leave your IT troubles to us, so you can get back to doing what you do best.
For an easily budgeted, fixed monthly fee — less than the cost of hiring a technician for one hour — we'll take away the worry, frustration and considerable cost of managing your IT environment.
Review our tiered tech support plans below, and contact us today for a quote and more information.
Euclid Networks' Support Plans
When you subscribe to our of our support plans, you'll receive:
■ Timely, competent support
Available when and where you need us
■ Proactive System Maintenance
We find and fix problems before they happen
■ Round-the-Clock Monitoring
Our techs are notified as issues arise
■ Best-in-Class Antivirus/Malware Protection
Active protection helps prevent costly downtime
■ Remote Access WebPortal – w/LogMeIn Pro
Access your computers from anywhere in the world
■ Patch & Update Management
Keeping your systems up to date with the latest software
■ Strategic Technology Planning
Using our expertise to help plan your IT infrastructure
Tiered Service Levels
Bronze
Managed service only; remote and onsite technician time billed hourly
Silver
Managed service and all-inclusive remote support; onsite time billed hourly
Gold
Managed service and all-inclusive remote and onsite support.
* After business hours and weekends may incur surcharge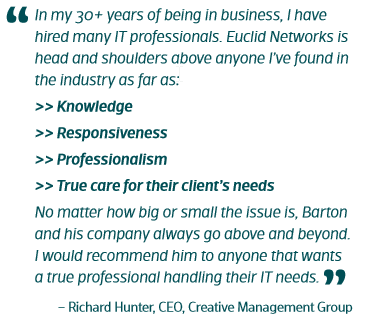 Other Core Services
In addition to our Support Plans, Euclid Networks offers these technology services:
■ Web Design & Hosting
We offer comprehensive web design services, including graphic design, SEO consulting, and hosting.
■ Cloud Servers & Backup
How can cloud computing benefit your business? We're here to guide you. Offering Hosted Exchange, Cloud Backup, File Sharing and more.
■ Voice over IP (VoIP) Phones
We help partners implement the latest VoIP systems, greatly reducing ongoing phone costs.
■ Server & Network Management
Support plans are available for all of your critical infrastructure – including SQL and Exchange servers, and office network equipment.
■ Computer Repairs & Upgrades
We repair and upgrade laptops and desktops in-house, saving our partners time and money.
■ Business & IT Consulting
From shrinking tech bills to automating repetitive tasks and improving business workflow, we partner to help your bottom line.
The Value of Managed IT Services
Better Financial Planning – You know how much you're going to spend each month. No more gambling with your budget and productivity. Our pricing is clear and straightforward.
Our Team Is Your Team 24/7 – We're already on the job when an issue arises — taking care of routine computer maintenance and ensuring your server and desktop systems operate properly.
Your Systems Stay Optimized – Functioning computers can still run slow or inefficiently. Our solution maximizes the value of your IT investment.
Faster Problem Resolution – With remote monitoring in place, we'll usually see a problem before you do, allowing us to get a jump on the issue with little or no downtime for you.
Let us help you put your IT budget to better use. From law offices, to doctor's offices and medical facilities, we take the effort out of managed IT service for our Atlanta area partner businesses.
Let us answer any questions you have about our managed IT support services. We'll show you the easiest and most affordable way to maintain your office computers, servers, and network systems for top business performance. Contact us today!